Description
Due to the surge in thermometers, the supply falls short of demand. Your orders will be random fulfilled from the following 3 models. They all have the same features! Highly appreciate your understanding!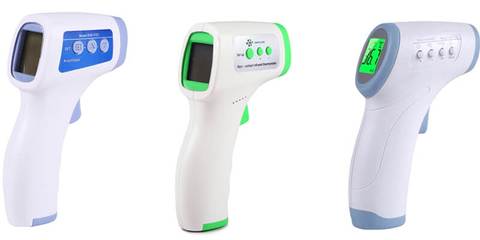 Worried about waking up or upsetting your babies while you check their temperature? This useful non-contact colorful infra-red baby digital thermometer helps you check their forehead temperature at a distance without disturbing them.
This No Touch Thermometer is specially designed to take the body temperature of a person regardless of room temperature. These medical quality thermometers are perfect for measuring the temperature of a baby or adult by checking their forehead, with it's safe no-contact laser temp design. When the indoor temperature is significantly different, the body infrared thermometer device should be placed in that room or area for 10-15 minutes before using.
Digital Infrared Non-Contact Body Thermometer Features:
Power Supply: Powered by 2 AA batteries (not included in packaging)
Three-color backlight: Green backlight means normal temperature, yellow backlight means mild fever, red backlight means high fever, please take it seriously.
Energy-Saving: With a quick body fever check function and auto-power off, it is undoubtedly the best medical body digital thermometer to safely use for checking the temperature of children, and adults anywhere you go.
Specifications:
Limited Stock
Material: ABS Plastic
Size: 105 * 55 * 160mm (L*W*H)
Weight: 115g / 3.9oz
Body Temperature Measurement: 32.0-42.9°C / 90-109.4°F
Ambient Temperature Measurement: 0-100°C / 32-140°F
Measurement Distance: 5 to 15cm (within 5cm is the best)
Auto-shutdown Time: About 7 seconds
Accuracy: (+/-)0.2°C (0.6°C error is allowed due to the infrared test and environment effect)
Package Included:
1 x No Touch Thermometer
1 x User Manual